RELEASE THE GENIUS OF YOUR TEAM
Result in a new level of success, growth, and prosperity when your team works with Mykola and learns his time-proven strategies for success!
Mykola's clients say that one of his talents is the ability to process complex information, then simplify it and convey it to students in an understandable and digestible form without obscure words and in simple language.
Whether your company needs sales, productivity, and communication boost, or your goal is to create a powerful transformation, Mykola is the best teacher to help quickly move through fears, challenges, and obstacles and seamlessly start operating on a new level of mindset and success.
After working with Mykola, your team will be inspired and motivated to succeed. They will believe in themselves, gain self-confidence, see new opportunities, begin to live life to the fullest and receive joy and satisfaction from achieving their goals.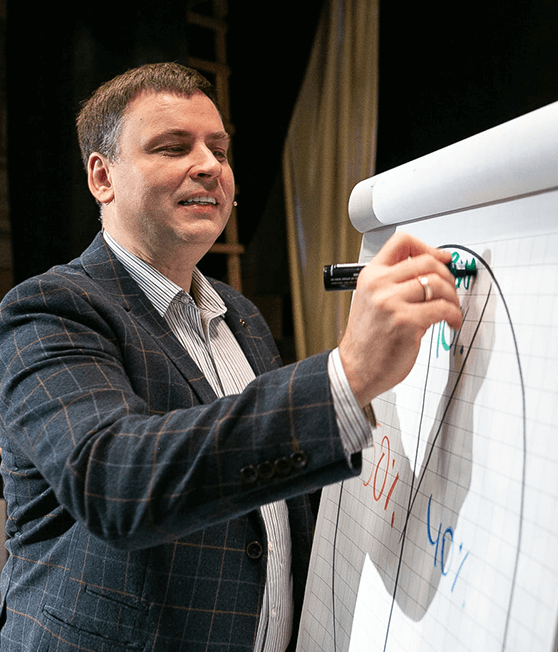 What Our Clients Say
I have been in business for 25 years, but studying with Mykola excelled my results as a business owner and CEO. He provided us with clear steps on the business development and gave us new levers to discover the genius of my team!
— Khatuna Lolashvili
Misunderstanding, ambiguity, and fuzziness disappeared from our team communications. Employees come to the right decisions, take responsibility, and act to achieve the best results after the training.
— Svetlana Sushko,  owner
Mykola is a Mercedes in the world of training. He provided the highest quality possible and created a powerful inspiration for everybody on our top-management team.
— Valery Gudzenko, CEO
Now I know how to discover a genius and inspire my team! BUSINESS SUCCESS = developing your personality and those around you + training in the best tools and business models!
— Svetlana Gaydaychuk, CEO
Mykola created a flow in my business that gave intensity and acceleration and made everyone in our company look at the business from the standpoint of a team player.
— Oksana Bega,  top-leader
Contact us to hire Mykola
If you require a prolonged motivation of your team, increased sales, higher responsibility for the working environment, and a creativity boost, please do not hesitate and contact us to hire Mykola for your organization!